9.17am, the Broadsheet virtual office: Slack.
Tomas: Um. Did anyone else just feel the earth shake
Matteo: Ummmmm
Emma:WOAH
Michila: That was heavy
Julia: What the ??
Maxine: I thought it was just drilling near me
Katya: Wtf – was that an earthquake?
Chynna: It went on forever
Michila: Another wild day in Melbourne
Lucy: I thought it was some large person trying to exercise upstairs until the floor started moving.
Sinéad: NOPE, SORRY, TAKE IT BACK, NOT INTERESTED. I can only deal with one catastrophe at a time, I'm old fashioned that way!!!
Conversations like this one exploded on people's phones and desktops across Australia's east – and as far south as Tasmania – this morning when a magnitude-6 earthquake hit at about 9.15am and rumbled on for a long 20 to 30 seconds.
For some, confused reactions were broadcast live on national TV – like the ABC's Michael Rowland and Tony Armstrong.
A magnitude six #Earthquake has rattled Melbourne and regional Victoria.
This is the moment when News Breakfast presenters @mjrowland68 and @Tonaaayy_ were rocked by it. pic.twitter.com/Z4gz0sWJve

— News Breakfast (@BreakfastNews) September 21, 2021
For many Australians, this was their first earthquake experience. And like we've done with pretty much anything 2020 and 2021 have thrown at us, the first thing we did was jump online to crack jokes and share our experiences.
There were memes.

There were puns.
Dan Andreas Fault.

— Darren Levin (@darren_levin) September 21, 2021
There were still digs at the Sydney-Melbourne rivalry.
They might have felt it, but I don't think people from Sydney will ever truly ~understand~ what it was like to live through Victoria's earthquake

— Jeremy Story Carter (@jstorycarter) September 21, 2021
@kat.lukin
There were attempts at humour despite the damage.
me: can I have a thick shake?
Betty's Burgers: say no more fam #Melbourne #earthquake pic.twitter.com/dNSWSbffzl

— Cody Stebbings (@codystebbings_) September 22, 2021
@frog.ashtray
(p.s. Betty's Burgers says the team is okay and there was nobody in the restaurant at the time.)
Brisbane even took a couple swings.
Of course there was satire from the Betoota Advocate.

There was even an eerie prediction from yesterday.
Nation braces for next natural disaster after Scott Morrison goes on vacation

— The Chaser (@chaser) September 21, 2021
And the Collins Street falcons were shook.


Broadsheet's editors and staffers have been sending each other memes, tweets, reactions, screenshots and videos back and forth – here are some of the best ones.
Incredible post #earthquake scenes in Melbourne right now, with hundreds descending on Lune for essential supplies. pic.twitter.com/kDceVe67eX

— Darren Levin (@darren_levin) September 21, 2021
Can someone please explain to me how an earthquake from Mansfield was allowed to travel into Melbourne without a permit?

— Tim Callanan (@MrTimCallanan) September 22, 2021
Melbourne this morning #earthquake #tremor pic.twitter.com/DSsbwf8HCU

— liam, a tired mf (@LiamMoloney61) September 21, 2021
After the earthquake, Bloke nearby ran out of his house and blamed the builders at the next house, and the builder replied, "I'm fucking painting a wall"

— Declan Fay (@declanf) September 21, 2021
the Melbourne earthquake, 22/10/21 — we will rebuild... pic.twitter.com/WzwWxhwfOq

— Evan Morgan Grahame (@EvanMG) September 21, 2021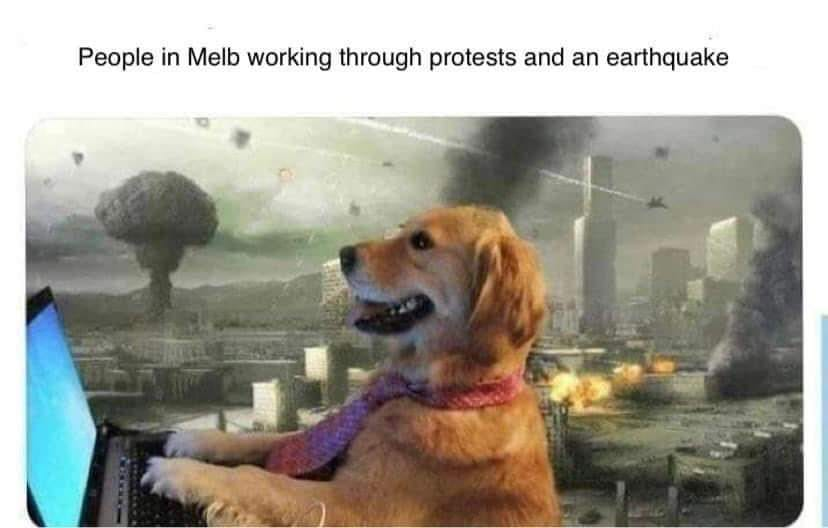 And from the r/Melbourne subreddit, this exchange:
u/lahlah99: Monday – Lockdown, Tuesday – Riots, Wednesday – Earthquae, Thursday – Floods?
u/RedOx103: Friday – Aliens

One thing's for sure – if the plague starts tomorrow, the internet will be all over it.
Good reminder that when the end of the world does come, our first instinct will be to live-tweet some dumb jokes

— Jeremy Story Carter (@jstorycarter) September 21, 2021